Predstavitev
Na Orlah nad Ljubljano stoji mininaselje dveh energetsko varčnih dvojčkov, ob robu gozda, nad smogom in meglo, 4 km od centra Rudnik-Leclerc. Naselje je oddaljeno 8 km in 14 minut vožnje ob kateri koli uri od Pogačarjevega trga (Osrednje ljubljanske tržnice).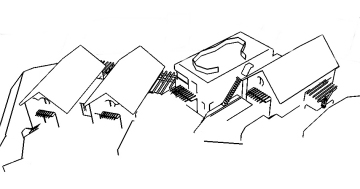 Naselje je zgrajeno na temelju projekta slovenskega arhitekta Boštjana Debelaka, ki je strokovnjak za energetsko varčne male hiše. Naselje stoji na nepoplavnem območju, na seizmično najbolj varnih ljubljanskih tleh in nad smogom.
Vas Orle leži na nadmorski višini 458 m na vrhu južnem grebena Golovca, pred njegovim prehodom v Molnik, in se razteza ob asfaltirani cesti, ki pripelje z ljubljanskega Rudnika.
Naselje je oddaljeno od Dolenjske ceste na Rudniku oddaljena 3,2 kilometra (6 minut vožnje), od priključka obvoznice Ljubljana-Jug, z notranje strani, pa 3,8 kilometra. Večerne in nočne temperature na Orlah so poleti več stopinj nižje od temperatur v ljubljanski kotlini.
(Poti / recreational paths for walking and biking Golovec - Orle).

arhitekt Boštjan Debelak
Rudnik, Orle, Škofljica
nizkoenergetska hiša
gozd
sprehodi
gorsko kolesarjenje
pet minut od obvoznice

hisa.orle@gmail.com



Slovenia (EU) and its "fairy-tale capital Ljubljana" - is one of the 20 best places in the world to buy a second home abroad according to the Telegraph newspaper.

The Ljubljana bypass ring road is an integral part of Slovenia's Highway system (max. speeds 120 km/h) and is directly connected:
- by Highway A1 to the Adriactic Sea
(Koper via A1: 111 km, 1 hour 5 mins)
(Trieste, Koper, Piran, Portorož and onwards to Istria, Croatia)
and
- by Highway A2 to Brnik and Slovenia's main Airport Jože Pučnik
(Brnik via A1 and A2: 38 km, 27 mins)
and
- by Highway A2 to Bohinj Lake, the Triglav National Park and Bled with its lake
(Bled via A2: 76 km, 56 mins)


..
Paths for walking and biking: Ljubljana - Golovec - Orle - Ljubljana:


All the paths to Orle from Ljubljana


Routes "On the Golovec"


Trekking route: Golovec - Orle


A walk: Golovec -Orle -Urh


GPS path: Orle - Golovec


-----------------------------------------------------------------
Luxury Houses by the forest above Ljubljana
(c) DP Orle 2016